The Video Game, "
Guilty Crown: Lost Christmas
", will have its own Special Edition. The Special Edition 5 items.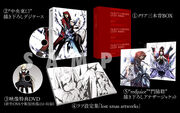 BOX and Digital Illustrations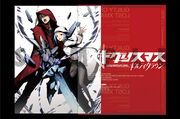 The first item is a special case of digital illustrations drawn by "East Exit" Central Clearing and the second item is an original BOX charge the image of a red coat, Scrooge.
And so we become the same specification as the "Guilty Crown" BD & DVD series: You can store side-by-side as "PHASE 00 LOST XMAS".
DVD
The third item is a DVD with an OVA of the Video Game, "Guilty Crown: Lost Christmas", it will be 11-12 minutes long.
Story
Carol and Scrooge escaped the research facility of a secret society. Because two people to wreak vengeance while continuing to flee, they were played cat and mouse as experimental body themselves, had been following the clues of the organization.
Two people who reached the port town is one where Futokoroka to puppy dogs. Scrooge hesitate to touch the puppy. Carol loved the puppy show it as a kid.
However, suddenly a bullet hit one animal two people. I hit a bullet, special forces experiment follow the body. Led by the troops was Makoto boundary and lie is a young captain pharmaceutical Sefira Ministry of Public Security.
NOTE: "This was translated from Japanese to English, sorry for being bad translated."
Design Book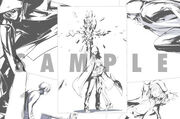 The fourth item is a book, around of 40 pages of set design, character design and mechanical design, by "Middle east exit". Original, by "Makoto Ishiwata"
Illustrations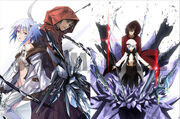 And the Fifth Item is using the illustration of the two names Carol and Scrooge is one of the chief animation director "Satoshi Kadowaki," is to draw down "redjuice" and draft TV Anime "Guilty Crown" character, Another gorgeous jacket!
Gallery about the OVA
==
Links
[1] - Guilty Crown: Lost Xmas Special Editiion.
Community content is available under
CC-BY-SA
unless otherwise noted.