Line 4:
Line 4:
 

L X-mas poster.jpg|Guilty Crown: Lost Xmas|link=http://guiltycrown.wikia.com/wiki/Guilty_Crown%3A_Lost_Christmas|linktext=The visual novel is coming out next year! Badass looking Shu? Yes please!

 

L X-mas poster.jpg|Guilty Crown: Lost Xmas|link=http://guiltycrown.wikia.com/wiki/Guilty_Crown%3A_Lost_Christmas|linktext=The visual novel is coming out next year! Badass looking Shu? Yes please!

 

Banner.jpg|List of Characters|link=http://guiltycrown.wikia.com/wiki/Category:Characters|linktext=Meet the Characters of Guilty Crown!

 

Banner.jpg|List of Characters|link=http://guiltycrown.wikia.com/wiki/Category:Characters|linktext=Meet the Characters of Guilty Crown!

−

Ep22 preview.jpg|Phase 22: Convergence|link=http://www.guilty-crown.jp/story/|linktext=What will happen next week?</gallery>

+

.jpg| |link=http://..//|linktext= </gallery>

 

{|cellpadding="2" cellspacing="5" style="width: 100.5%; margin-top: 1em; right-align: top; background-color: none; border: 0px solid #AAAAAA;"

 

{|cellpadding="2" cellspacing="5" style="width: 100.5%; margin-top: 1em; right-align: top; background-color: none; border: 0px solid #AAAAAA;"

 

|-

 

|-
---
Revision as of 19:30, 22 March 2012
Welcome
Welcome to Guilty Crown Wiki

Welcome to Guilty Crown Wiki, and thank you for your contributions

Please leave me a message if I can help with anything!
Things you can do:

Pages to visit:

Guilty Crown Wiki Main Page
Policies



Latest Episode
Prayer:Convergence
After taking full control of Inori's body, Mana greets Shu but is shunned by him after she speaks ill of Inori, much to her anger, and she lets Gai draw her void to fight him while she triggers the Fourth Apocalipse, spreading the Lost Christmas phenomena throughout the entire world. Haruka confronts Shuichiro who injects the Apocalipse virus in himself and his body starts cristalizing.
The latest episode Prayer:Convergence is up! Check it out!
Featured Article
Kurosu Ouma is both Shu and Mana's father. After the death of his wife Saeko Shijou, he married Haruka.

A genius, he was the scientist who discovered Void Genome to be an inhibitor of Apocalypse Virus. Together with Shuichiro Keido, his friend and fellow scientist, he led the research about the Apocalypse Virus. 5 years after living with his family in Oshima, a meteorite feel down and Kurosu and his team began to investigate, the meteorite pieces had the virus cells it was Mana, who found it. After a while Yuu, a envoy from Da'ath, came and warned Kurosu and Keido about the fouth apocalypse. When Saeko gave birth to Shu, she died. Kurosu needed to protect Shu because Mana already had chosen her Adam, his blood would set the standard of the next generation.

After a long time, Kurosu started to know Haruka, he had left Shu and Mana on Oshima to immerse himself on his research. He and Haruka got married and in that year they tried to have their first Christmas together. On 24th December 2029, got caught in his research and he met Keido there, he found out that Kurosu have finally solved the mysteries of evolution and natural section. After Keido request to work together with Kurosu again, Kurosu ended up refusing, which left Keido mad and made him shot him.



Guilty Crown Websites
Official Sites
Guilty CrownJpn - The official Guilty Crown site with up-to-date information on anime and its releases.
General Sites
Featured Image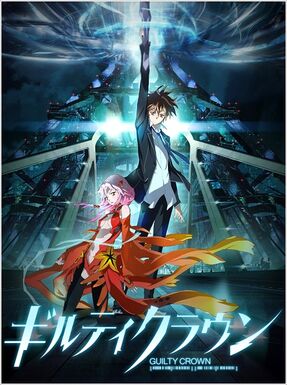 WikiaAnime Twitter Feed

<twitteruser username=WikiaAnime limit=2 />
Main Page Poll
Help Out
Help Out
Not sure where to start?
Spring Season 2021 Anime Wikis

TV Anime

TV (Multiseason)

ONA

OVA

Specials

Film
Community content is available under
CC-BY-SA
unless otherwise noted.