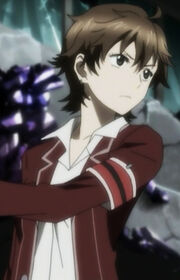 Template:Infobox Ritsu Takarada is a student who first appeared after the Lockdown.
Personality
Edit
When Shu became a tyrant, she shows an admiration to him. She is also close with a female classmate, Miyabi.
Appearance
Edit
She wears a Tennouzu high school uniform and tomboyish brunette hair. 
Ritsu's void is an electrified short blade. 
Picture Gallery
Edit