Line 1:
Line 1:
 

{{Template:Infobox character

 

{{Template:Infobox character

−

[[File:Placeholder|video|right|300px]] [[File:249207.jpg|thumb]]

+

[[File:Placeholder|video|right|300px]]

 
+

|images =[[File:249207.jpg|thumb]]

−

|box title = Ritsu Takarada

 
 

|name = Ritsu Takarada

 

|name = Ritsu Takarada

 

|gender = Female

 

|gender = Female
---
Revision as of 00:46, 18 January 2018
{{Template:Infobox character
|images =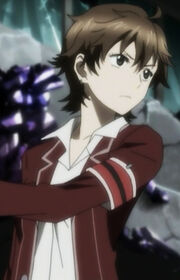 |name = Ritsu Takarada |gender = Female |status = Deceased |occupation = High School Student |anime debut = Episode 16 |va-jp = Minami Tsuda |va-eng - Carli Mosier }} Ritsu Takarada is a student who first appeared after the Lockdown.
Personality
When Shu became a tyrant, she shows an admiration to him. She is also close with a female classmate, Miyabi.
Appearance
She wears a Tennouzu high school uniform and tomboyish brunette hair. 
Void
Ritsu's void is an electrified short blade. 
Picture Gallery